F.A.Q. - Frequently Asked Questions
Q: How do I care for my jersey?


A: All our apparel is machine washable, preferably under cold water. Machine dry and wrinkle-free.
Q: Can I put as many logos as I want on my jersey?


A: There is no limit as to the number of logos you wish to have on your jersey. So long as the logos are in our library there are no extra charges.
Q: How do I get a logo that isn't on file on my jersey?


A: We offer custom logo design and vectorizing services. Depending on the logo, prices may vary from $45 to $100 per logo. Just send us the version you have and we'll be happy to quote you on it.
Q: Are there any discounts or specials for larger groups such as clubs or trails?


A: We specialize in setting groups up with their very own jersey program and store. Please contact us for more details.
Q: Do I have to pay for 2 design charges if my partner and I have the same shirt but with different names?


A: No, you would only pay for one design charge. Name changes and size changes are not additional charges.

Q: Do you offer quantity discounts?
A: Yes
Quantity Discounts
10 Jerseys = 5% off
25 jerseys = 10% off
50 jerseys = 15% off
100 jerseys = 20% off
100+ jerseys - 25% off
ALL JERSEYS MUST BE ORDERED AT ONE TIME
AND HAVE SAME BACKGROUND AND LOGOS
Request a custom quote to get a Quantity Discount on your large team or club orders.

Q: What file formats for Logos or Artwork?
A: Read the following details that explains why we only accept vector design files.

Provided Logo and Design File Requirements
When uploading to our online designer or sending us logos or artwork they must be in vector format to be printed at the highest quality.
All of the logos already in our online designer are vector files and of the highest quality for print. You do not need to upload a logo we already have in our catalog.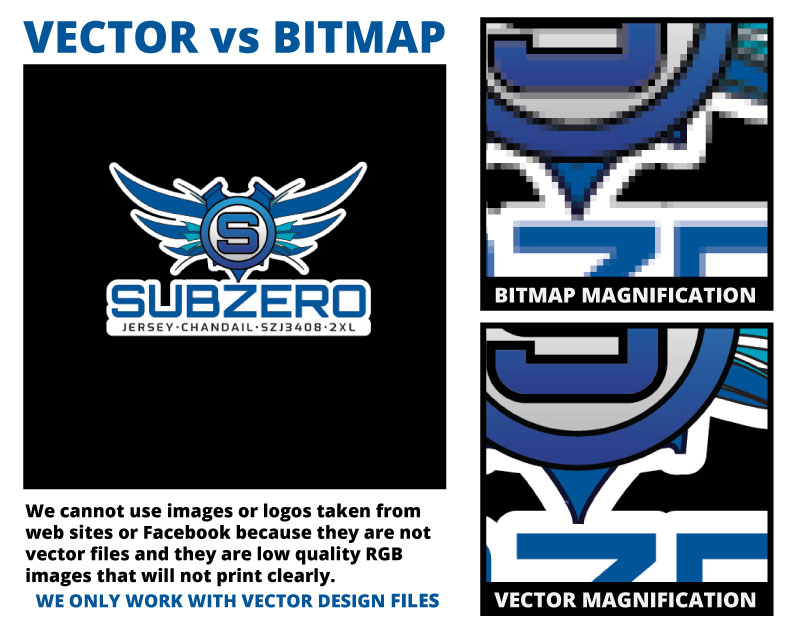 Vector Images
Vector images are the opposite of raster/bitmap images that we often see on websites or produced in photoshop. Vector images are used in professional graphic design and are the preferred format for all forms of printing and design as colours can be changed quickly and layers can be edited for final print.

Bitmap Images
Bitmap images where designed to view on computer screens at a resolution of 72 dots per inch (DPI) and are flat rendered files that can not be edited, as an example the black or white background can not be removed from a bitmap image.
The reason we only accept vector is our sublimation printers have to increase the size up to 800 dots per inch which means any bitmap image would have to be increased by 11x magnification which would result in a rough pixelated image that would be blurry and poor quality.
Vector artwork on the other hand can be scaled to any size without losing quality and print at the highest quality.
Fishing Logos
If you are having trouble finding a logo that is in a vector format, you can contact your sponsor to provide the vector version of the logo.
Images from websites
We cannot use images or logos taken from web sites because they are not vector files and they are low quality RGB images that will not print clearly.
Convert Bitmap to Vector
If you do not have a vector version of a logo or artwork, you can try sending the highest quality version you have to us for review. Our design team will see if it can be converted to vector. The normal fee for this conversion is $25 to $35 per logo or image. If you only have a small web graphic version our designers will need to redraw the logo from scratch and you will be charged accordingly for the amount of work needed. On averaged the fees are $75 to $150 to recreate a logo in vector. Note, you will be sent the final design file in Adobe Illustrator vector format for future use.